Motor City Machine Guns def. Lethal Consqeuences via pinfall.
ULTIMATE X MATCH: Amazing Red (c) def. Suicide, Homicide, Christopher Daniels, Alex Shelley and Chris Sabin retaining his championship.
Sarita and Taylor Wilde def. The Beautiful People via pinfall.
LEGENDS CHAMPIONSHIP MATCH: Eric Young def. Kevin Nash (c) and Hernandez to become the new Legends Champion via pinfall.
TNA Tag and IWGP Tag Title Match: British Invasion versus Booker T and Scott Steiner versus Team 3D versus Beer Money in a Full Metal Mayhem Match. Winners were Team 3D (IWGP) and British Invasion (TNA).
ODB (c) def. Tara and Awesome Kong.
Submission Match: Bobby Lashley def. Samoa Joe.
Monster's Ball Match: Abyss def. Mick Foley (Guest Referee Dr. Stevie) via pinfall.
Kurt Angle def. Matt Morgan via pinfall.
TNA World Heavyweight Title Match: A.J. Styles (c) def. Sting via pinfall to retain his championship.
It's one of TNA's biggest shows of the year and I must say that they've done an incredible job of hyping the show. "Super Impact" was a 3-hour show that not only built nicely to the PPV but also included Kurt Angle vs. AJ Styles in an incredible match-up. Now, we take a look at the card for this month's event and I'll give my predictions for what looks to be a spectacular show!
The Motor City Machineguns (Chris Sabin and Alex Shelley) vs. Lethal Consequences (Jay Lethal and Consequences Creed)
PREDICTIONS: The Motor City Machine Guns would seem the likely choice in this pre-show match given the fact that TNA hasn't exactly done much with Lethal Consequences as of late.
Matt Morgan vs. Kurt Angle
PREDICTION: Believe it or not, I see TNA pulling the trigger on Matt Morgan and giving him the victory over Angle. Even if Morgan wins this match it certainly won't Angle who is without question a made man (pun intended).
A.J. Styles (c) vs. Sting
PREDICTION: No one is sure how long Sting will be with TNA. Even if he is going to be with the company for an extended amount of time if TNA wants to continue to make AJ Styles one of their top guys he needs a win against a big star like Sting. If Styles wins this match, I think we can all safely say that Sting will have passed the torch to Styles.
Samoa Joe vs. Bobby Lashley
PREDICTION: While it will do the company no good, I see Bobby Lashely getting the W. I like Lashley as a person but I really don't see why TNA has brought him in considering the fact that he's not going to be with the company long-term.
PREDICTION: I've stated on the show that I don't feel Mick Foley should be in a standard 1-on-1 match anymore. However, I believe that a hardcore match is a different story. Mick Foley is the king of hardcore and I see this one being quite a match. With that said, I think Abyss will pick up the win. Expect one crazy ending to this match!
ULTIMATE X: Amazing Red (with Don West) (c) vs. Suicide vs. D'Angelo Dinero vs. Daniels vs. Homicide
PREDICTION: Ultimate X has never been my favorite match-up but it does always provide some cool spots. My prediction and hope is that Amazing Red keeps the strap! I'm so glad to see Don West back on television--and as Red's manager! GO RED GO!!!
Sarita and Taylor Wilde (c) vs. The Beautiful People (Madison Rayne and Velvet Sky)
PREDICTION: The Beautiful People
The Main Event Mafia (Booker T and Scott Steiner) (TNA) vs. The British Invasion (Brutus Magnus and Doug Williams) (IWGP) vs. Beer Money, Inc. (Robert Roode and James Storm) vs. Team 3D (Brother Ray and Brother Devon)
PREDICTION: Whow, this one is going to be fire! Considering Booker T. is probably going to be leaving TNA after this pay-per-view I'm going to go with The British Invasion on this one.
Kevin Nash (c) vs. Hernandez vs. Eric Young
Prediction: Hernandez is a guy I see TNA pushing to the world heavyweight championship along with Matt Morgan. Kevin Nash certainly doesn't need the belt at this point (nor do I feel he should be an active competitor). I'd feel that the person who would benefits most from winning the title is Eric Young.
ODB (c) vs. Awesome Kong vs. Tara
PREDICTION: Awesome Kong
WORTH THE MONEY?: Bound for Glory promises to be an action packed show with tons of high quality matches. Many within the company have claimed that this is the beginning of a new direction. If "Super Impact" is any indication of what's to come, TNA is on the right track. I'm skeptical but one can hope! The bottom line is that if you buy one TNA pay-per-view this year, Bound for Glory 2009 is probably the one you want.
Podcast: Play in new window | Download
FIGHT-ON
EPISODE 05: An Unfortunate Twist of Fate
DATE: September 24th, 2009
In this two-hour plus edition of FIGHT-ON we'll examine Jeff Hardy's unfortunate Twist of Fate (or dare I say poor choices...). Other topics include TNA's backstage changes and Ric Flair coming out of retirement. PWDragon and Elias also take a look back at UFC 103 and TNA: No Surrender. Then we'll peer ahead into the year 2,000 and give our predictions for WWE: Hell in a Cell. Finally, we'll induct one of the greatest Pro Wrestlers ever into the Hall of Fame--can you smell what he's cookin'? All this and much more on FIGHT-ON!
1. Taylor Wilde and Sarita def. The Beautiful People in 4:50 to become the first TNA Knockouts Tag Titles.
2. Hernandez def. Eric Young in 0:50.
3. Samoa Joe def. Daniels via submission in 13:45 to retain the X Division Title.
4. D'Angelo Dinero def. Suicide in a falls count anywhere match in 12:20.
5. ODB def. Cody Deaner to win the TNA Knockouts Title in 7:10.
6. Kevin Nash def. Abyss to retain TNA Legends Championship in 8:30.
7. Beer Money and Team 3D def. Booker T and Scott Steiner and The British Invasion in a Lethal Lockdown match in 22:25.
8. Bobby Lashley pinned Rhino in 6:05.
9. A.J. Styles defeated Kurt Angle, Sting, Matt Morgan, and Hernandez in a five-way to win the TNA Title in 15:15 via clean pinfall.
Podcast: Play in new window | Download
FIGHT-ON
EPISODE 04: Holy Jailbird Batman
DATE: September 5th 2009
On this edition of FIGHT-ON, we'll talk about what everyone else is talking about; Rey Mysterio's 30 day suspension. Holy jailbird Batman! Christopher Daniels DUI and Kurt Angle's stalking? Never a dull moment in the wrestling industry. We'll review SummerSlam 2009, look ahead to UFC 102 and WWE Breaking Point. Plus, we'll catch you up on all the latest Pro Wrestling and MMA news!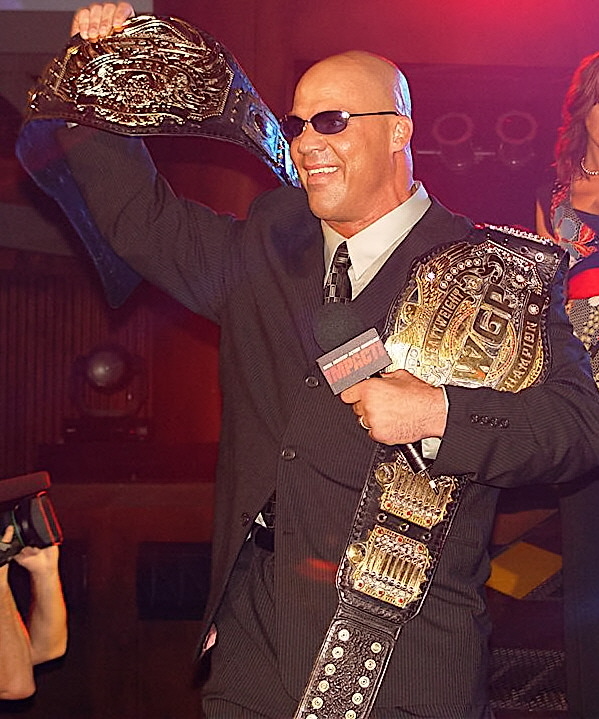 Kurt Angle was arrested yesterday morning following an incident between he and girlfriend Trenesha "Rhaka Khan" Biggers.
Angle was arrested after Biggers went to police and filed a protection from abuse order against him.
Biggers called the police while at Starbucks and informed them Angle was following her and in possession of her cellphone, which had photos described as "pictures of abuse".
Media outlet WPXI posted the full police report of the incident involving TNA star Kurt Angle getting arrested.
According to the report, police first spotted Angle at about 7:50AM in the vicinity of a Giant Eagle/Get Go shopping center. The actual encounter between the arresting officer and Angle took place shortly thereafter in the parking lot of a Starbucks at Robinson Towne Center.
The officer identified Angle's license as being under suspension for a DUI-related issue. Upon addressing Angle about the nature of the call--an alleged violation of the protection from abuse order girlfriend Rhaka Khan requested--the officer discovered two vials of HGH compound hygetropin. Angle said that he could provide proof of valid prescription.
When informed that police had been called regarding the PFA violation, "Angle denied [that he was stalking her] and stated he was looking for a hotel to stay in and never saw her." At the time, Angle also confirmed that he had her cell phone.
Rhaka Khan argues that she was using a computer at Starbucks (out of fear regarding how Angle would react if she used the computer at home) when she saw Angle, in a car, circling around the parking lot.
"She stated to me that she could see Angle accessing her cell phone that she left in the car and feared he was deleting her text messages and pictures she had of past abuse [involving] Angle," read the report.
A Pittsburgh Post-Gazette report added that she filed for the PFA order at around 6:20AM after an abuse-related incident.
Kurt Angle will go before District Judge Carla Swearingen at a preliminary hearing Tuesday. He has been released from jail, and as of press time, the belief was that he would still be appearing at tonight's TNA pay-per-view, Hard Justice.
Podcast: Play in new window | Download
FIGHT-ON
EPISODE 02: Macho Madness
DATE: July 29th 2009
In this edition of Fight-On we'll review UFC 100, TNA Victory Road and WWE Night of Champions. Then we'll get you up to date on all the major news of the (combat) world, induct a new member into the Hall of Fame (OOOOH YEAH!) and look ahead to UFC 101.
Mixed Martial Arts News
PRO WRESTLING NEWS
According to PWInsider.com and f4wonline.com, Jeff Jarrett was not at Sunday's Victory Road pay-per-view. Front office staff at TNA were apparently informed last week that the King of the Mountain will be taking 'personal time off'.
"It's interesting to note that Jarrett's sudden absence coincidentally occurs after an incident on Bubba the Love Sponge's radio show last week where an "anonymous TNA employee" had their voice distorted and claimed on-air that Jarrett was now involved in a relationship with the ex-wife of Kurt Angle, Karen. The person claimed the two were living together at Jarrett's residence."
In fact "it would appear that there is something to the anonymous TNA employee's claims on last Wednesday's episode of Bubba the Love Sponge's satellite show that Karen Angle and her children were living together with Jeff Jarrett. It is now coming out that TNA president Dixie Carter ordered Jarrett to go home as soon as she found out about the person's claims, which has been described publicly as him agreeing to take a leave of absence.
At Saturday night's TNA house show in Winston-Salem, North Carolina, Kurt Angle was telling people that he is going to end up with the booking control of the company that Jarrett had and that he won't sign a new contract with TNA if Jarrett remains in power. No one really know how things will transpire from this point. Angle's contract with TNA is set to expire in September and he has not yet agreed to a new one.
Jarrett was booked in segments on last night's pay-per-view that were either tweaked or removed. The direction of the booking for last night's show was planned before all of this stuff went down, as is television for the next few weeks. However, everything involving Jarrett will obviously have to be tweaked and/or removed as he was slated to further his program with Eric Young at this week's slate of television tapings."
"TNA's public relations official Steve Godfrey declined to comment on the situation when contacted. He said he could not 'comment on personnel issues at this time'."
"Jarrett's sudden absence was a large topic of discussion among wrestlers and employees at last night's pay-per-view. This may have been the first pay-per-view in the company's seven-year history which he was not running and/or backstage.
There is said to be no timetable on when he will return to his duties."